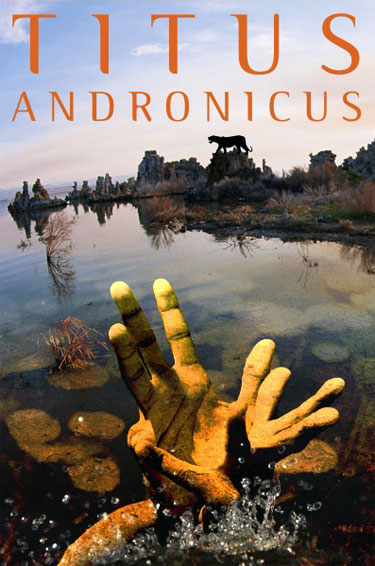 Combining beautiful poetry, human violence, and the intense lyricism of grief, "Titus Andronicus" was most of the most popular plays during Shakespeare's lifetime. It is the story of a Roman war hero whose rigid code of honor and trust in tradition cannot survive in a ruthless, predatory society where vengeance reigns. ASP's all-male production reflects Elizabethan theatrical practice and speaks to the gritty, stark, male-dominated world of the play.
Nominated for FIVE 2007 Elliot Norton Awards:
Outstanding Production, Outstanding Director, Outstanding Actor, Outstanding Lighting Design, Outstanding Sound Design.
Winner of the 2007 Elliot Norton Award for Outstanding Director.
Press
"…Gammons directs for actors and audiences, too, with an assured control of movement, imagery, and theatrical space that sends us hurtling into the starkly nightmarish Rome of "Titus" with terrifying clarity and speed…
Through it all, Gammons evokes gruesome violence without stage blood or rubber heads. And, by refusing to distract us with a sensational bloodbath, Gammons focuses our attention on the play's deeper themes of cruelty, tortured loyalty, and revenge…"
Louise Kennedy, The Boston Globe
"…ASP actually makes a valid case for it in an elemental, ritualistic, and very masculine staging surrounded on four sides by audience and what look like cave paintings. Although the gore is understated, the violent imagery is not…Gammons has streamlined the arguably Artaudian script, calling forth the military toughness of its characters…but also their unexpected tenderness… Moreover, despite this contrast of martial brutality and sad sweetness, the production, with its dim but harsh lighting by Jeff Adelberg and effectively mechanistic sound design by Cam Willard, is very much a whole…"
Carolyn Clay, The Boston Phoenix
"…A circle of stones; the spilling of ashes; some coils of rope; tears; and, of course, blood. These are the elements of the more than impressive production of Shakespeare's seldom-mounted tragedy ''Titus Andronicus,.. The catalogue of murders, vicious rape, and evil deeds, placed by Shakespeare in ancient Rome but transformed here into modern dress, is nearly beyond human comprehension… Under the skilled and chilling direction of David R. Gammons – who also designed the eerie setting of walls blank except for a blotch of blood and a few animal totems – an all-male cast stalks through the ritualistic presentation that elevates the gore to nearly ceremonial status…"