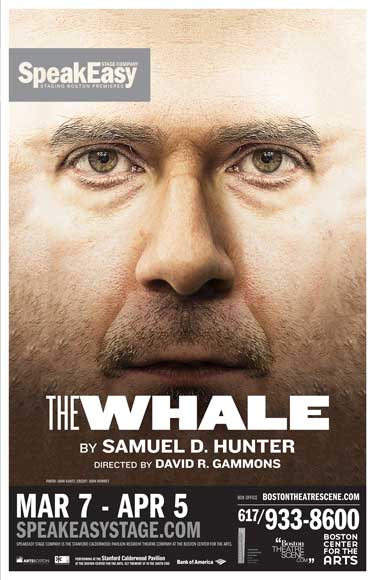 Charlie wants to make up for lost time. In the wake of a personal tragedy, he has eaten his grief and become a morbidly obese couch-bound recluse. With his health failing, Charlie makes one last desperate attempt to connect with his estranged teenage daughter in this big-hearted, humorous, and emotionally wrenching play.
Nominated for THREE 2014 Elliot Norton Awards:
Outstanding Actor (John Kuntz)
Outstanding Actress (Georgia Lyman)
Outstanding Design (Cristina Todesco, set; Gail Buckley, costumes; Jeff Adelberg, lighting; David Remedios, sound)
Nominated for THREE 2015 Independent Reviewers of New England (IRNE) Awards:
Best Actor (John Kuntz)
Best Supporting Actress (Georgia Lyman)
Best Supporting Actress (Josephine Ellwood)
Press
To his credit, director David R. Gammons does not make it easy to look past that appearance; does not make it easy, period. Profound loss and grief underlie Charlie's years of compulsive, self-destructive eating, and Gammons — while steering clear of cloying excess — makes sure we feel the pain radiating out in all directions from the sofa where Charlie now spends his days and nights. When he needs to go to the bathroom, Charlie requires a walker, and Gammons lets those scenes play out with real-time laboriousness. Gammons directed Kuntz's "The Salt Girl'' and "The Hotel Nepenthe,'' and "The Whale'' represents another satisfying collaboration.
As directed by David R. Gammons, the current production is thought-provoking. The technical credits, from the s cenic D\design by Cristina Todesco (early landfill décor), to the wardrobe supervision by Gail Astrid Buckley (including the rental of the fat suit from the New York production), eerily effectivel lighting design by Jeff Adelberg, and even more eerily significant sound design by David Remedios (waves, whales and wheezes), are extraordinarily contributive to Charlie's surroundings. A lot of attention to detail (the mammoth size of the blood pressure cuff, or the wallpaper on his laptop with a shot of Haystack Rock on the Oregon coast, for example) helps convey just how intensely constricted Charlie's existence is. No one who sees this production will regret spending the time with this pathetic central character as he progresses from claustrophobic victim to eventual inspiration (at least for his daughter , if not for his online students). He and we may finally find the empathy he had sought, in the words of one treasured book review of "Moby Dick" that becomes a pivotal piece: "This book made me think about my own life. This book made me think ..." So should this play.
Jack Craib, South Shore Critic
The Whale speaks quite strongly in its own voice to life choices, family connections, self as well as social acceptance, medical insurance costs and the overall human condition. This is a wonderful production of fine acting. All of the actors perform exceptional characterizations. Each one is distinctive, personally magnetic and realistically recognizable. The direction by David R. Gammons is deft. From the painful hard to bear movements of Charlie, to the methodical Medical procedures of Liz to the the teenager's defiant dance of Ellie, each actor's motion and position underscored their emotions and dialogue. The set is a mess, but this was done on purpose. Not only is the refuse and detritus strewn all over the stage to reflect Charlie's gluttony, but it is also symbolic of the waste of lives. Cristina Todesco should be congratulated for the garbage underfoot, across the stage and as part of the narrative. Gail Astrid Buckley's "fatsuit" for Charlie is rather remarkable as well. The Whale is not a fun play to watch. But it is a drama worth seeing about the human condition, its ugliness and a few of its better aspects. It may be one of the best acted plays of the season.