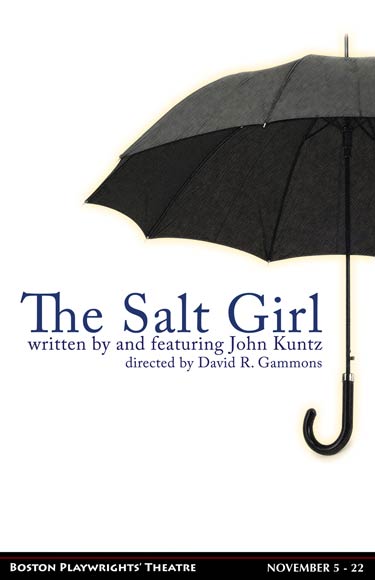 The Salt Girl is written by and features Elliot Norton Award-winning playwright and actor John Kuntz. Kuntz makes this newest foray onto the stage with a surprising and altogether different theatricality. The Salt Girl follows Kuntz's journey as Quint, a long-depressed, family black sheep who must now comes to terms with his loneliness or give in to his family's history. A mysterious obscene phone call, a long-missing sister, a dead mother, and a father left in a coma by a horrific car accident season this play with intrigue and heartbreak. A bittersweet blend of memory, fantasy, and reality, The Salt Girl is a dark valentine, laced with humor, to all of us who have lost and found a family.
Winner of the 2010 Elliot Norton Award
Outstanding New Script.
Press
"If someone told me that a play that included a man doing a techno dance in a full body panda suit would be my favorite show of 2009, I would never have believed them, and yet sitting here looking over the program for Boston Playwrights' Theatre's The Salt Girl, I cannot help but relive the flood of emotions I felt when I saw this show on Saturday night. Was it the handfuls of Fruity Pebbles being thrown into the audience? Perhaps the hunks of celery that Actor and Playwright John Kuntz hacked apart with a meat cleaver and threw at audience members crunching all around me in the otherwise silent theatre? It could have been the breathtaking set, a wall of televisions glowing ominously and flickering with film clips and pictures, as if we were seeing directly into the mind of the character, or it could have been delightful sound-scape which seamlessly led the audience through time periods and state of mind (Adam Stone should be commended). I'm not sure I could pinpoint one detail of this thrilling play that could define its perfection, but as my companion and I agreed, we would be forever changed for having seen it."
Shannon Rosa, Boston Theatre Review
"John Kuntz gives an exceptionally brave performance in The Salt Girl, and not just because he performs one scene in the nude and another in a panda suit. That may make The Salt Girl sound gimmicky. It's much more than that. True, this one-man play, written by the actor, has gimmicks aplenty, including a Hollywood Squares-style, floor-to-ceiling backdrop containing nearly two dozen TV sets, on which flicker images that range from humdrum to hallucinatory.
... At bottom, The Salt Girl is a meditation on the power of that big, wounding, and inescapable question: What if? Kuntz explores that question with arresting originality ... Under the inventive direction of David R. Gammons, Kuntz takes a lot of chances, and he asks a lot of the audience within the small Boston Playwrights' Theatre, too. If Quint cannot escape the claustrophobic confines of his mind, neither can we."
"There are elements in Kuntz's strange, piquant tale — in which a soupçon of autobiography is ballooned by imagination and then wrapped in a mix of 1970s television, '80s rock, and the occasional Bach cello suite — of the Jon Benét Ramsey murder case, and the formative experiences of a gay man haunted by memories at once sensual and bruising. At one point, Quint spots the heavy-breathing memory man who keeps calling his cell phone afloat in the sky and appeases the specter by donning a panda suit and serving up a committed, mechanically gyrating dance that takes him into the audience and back. But mostly this wounded soul tells his story from the bleak, blinking confines of his father's hospital room, where he tries to connect with a man beyond connection.
For all its ramblings down a memory lane strewn with also-ran candy, sugary cereals, and encomia to celery and The Love Boat, The Salt Girl is the creepiest and most potent thing Kuntz has written since the chilling two-hander Sing Me to Sleep. And in a raw, brave performance in which he sheds most of his zany mannerisms (not to mention his clothes), the actor makes us weep for his peculiar train wreck of a character, serving up painful history and recipes for Waldorf salad, even as we laugh at him."