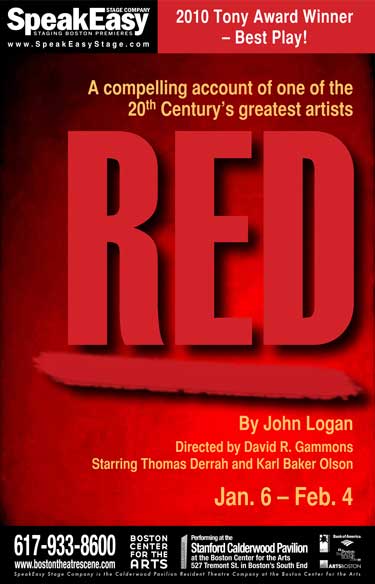 Winner of six 2010 Tony Awards including Best Play, Red is a searing portrait of an artist's ambition and vulnerability. After he lands the biggest commission in the history of modern art, abstract expressionist painter Mark Rothko begins work on a series of large murals with the help of a new young assistant. What takes place between the two men is a master class on the methods and purpose of art and the dynamic relationship between an artist and his creations.
Nominated for FIVE 2012 Elliot Norton Awards: Outstanding Actor (Thomas Derrah); Outstanding Actor (Karl Baker Olson); Outstanding Design Team; Outstanding Director; and Outstanding Production of a Play.
Nominated for THREE 2013 Independent Reviewers of New England (IRNE) Awards: Best Actor (Thomas Derrah), Best Director, and Best Production.
Winner of TWO 2012 Elliot Norton Awards: Outstanding Actor (Thomas Derrah) and Outstanding Production.
Press
When the canvas disappears and lights come up, they reveal a huge, cluttered studio, with high banks of smudged glass shutting out sunlight. Two huge paintings hang on either side --- subdued, misty color-abstractions with the unmistakable stamp of Mark Rothko's vision. … And the round, bald little man who makes them --- played to perfection by Thomas Derrah --- is a Vesuvius of pugnacious energy. He demands his student stand and breathe in a painting, living with it, communicating with its subtleties and implications. … And taller, leaner, younger Karl Baker Olson is the perfect foil, growing in awe, in admiration, and finally in question and criticism of an art so ethereal it leaves the humanity of the beholder out of the equation. … This is an exciting, breakneck journey, and it's easy to think the two men slugging it out on stage are creating it out of themselves alone. That is because Christina Todesco's magnificently detailed set, Bill Barclay's deft sound design, Jeff Adelberg's lights, and even Properties Master James Wilkinson's sea of ordered, scruffy clutter lets these very real human beings live. And, holding all these together, Director David R. Gammons has made a masterpiece.

"Red," John Logan's fictional treatment of painter Mark Rothko's famous commission for the Seagram building in New York, is being given an intense production at SpeakEasy Stage Company in Boston, under David R. Gammons' expert direction. It is a play that reveals the life of a troubled artist who saw himself on par with Turner, Titian, Michelangelo, and Matisse, who was living at a time of seismic changes when Americans would soon seek to canonize new artistic masters. The production is remarkable for the superb performances by Thomas Derrah and Karl Baker Olson as artist and assistant. … Director David R. Gammons is to be lauded: he has staged Logan's challenging script with clarity and freshness, and he takes us on a red-blooded journey into the very heartbeat of Rothko's flawed genius.

At first blush, "Red" seems like an art history lecture dressed up to look like drama. But in the hands of Thomas Derrah, and under the deft direction of David R. Gammons, SpeakEasy Stage Company's production quickly becomes a suspenseful story with life-and-death consequences. … The intellectual exercise is fascinating, but Derrah makes it even more compelling. He delivers a magnetic performance so full of detail, so rich in body language, it's impossible to take our eyes off him as he prepares to prime a canvas - shaking out the brushes, inhaling deeply, looking at the canvas, then looking away, as classical music swells on Rothko's record player. … Director Gammons conducts the action like a dance, and even in stillness, Derrah communicates volumes. … "Red" offers a captivating insight into the creative process, but more than that, it illuminates an artist's need for an audience and the terrifying vulnerability that creates.