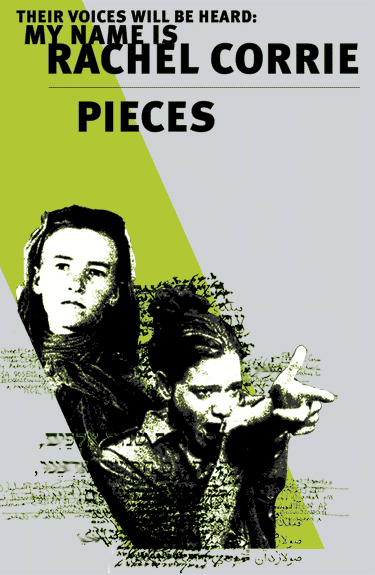 On March 16, 2003, Rachel Corrie, a 23-year-old artist, poet, and peace activist from Olympia, Washington was killed while attempting to stop an Israeli bulldozer from demolishing a civilian home on the Gaza Strip. Through her journals, poetry, and e-mails, hear her compelling quest to find truth and understanding in a complex situation, and follow her journey of courage and generosity as she used creativity and activism to forge identity, family, and community.
Nominated for a 2008 IRNE Award: Best Solo Performance.
Press
"Rachel Corrie" is a superlative work, here in a superlative production by director David R. Gammons and actor Stacy Fischer. Comprised of text from Corrie's journals and e-mails, it was adapted for the stage by actor Alan Rickman and journalist Katharine Viner. The work presents Corrie not as a martyr or an extremist - as she has often been portrayed in the media - but as a precocious, idealistic woman coming into adulthood and reacting to what she sees. The play opens on Rachel in her Olympia, Wash., bedroom and follows her to the Gaza Strip. Her voice is funny, honest and poignant, and through the alchemy of Corrie's words and Fischer's dynamic performance, we're drawn in from the word go.
Jenna Scherer, The Boston Herald
The play's Rachel Corrie, here portrayed with endearing vitality and quintessentially youthful self-contradiction by Stacy Fischer, first appears huddled under a comforter in her messy room decorated with postcards and stuffed animals, and we realize: Oh, she's a kid. A college kid, with idealistic dreams of becoming an artist and saving the world, but a privileged, white, American middle-class kid who's never actually had to face genuine hardship or conflict.
And then she ends up in Gaza. She's there, the play tells us, to protest the bulldozing of Palestinian homes by the Israel Defense Forces. Most people in the audience already know how that story ends, with her death in 2003 when one of those bulldozers knocked her down. Some of the controversy about the play concerns whether it accurately depicts these circumstances: Was she protecting homes or smugglers' tunnels? Did the bulldozer driver see her? Was her death an accident or a murder?
But the experience of actually watching the play leaves us less interested in those questions, and more interested in the development of a specific, flawed, but fascinating human being. The almost giddy young girl we met at the outset has, by the end, grown into a far sadder, more complicated, and yet still resiliently optimistic woman.
Of course this play tells Corrie's story from a personal perspective, not a universal or objective one. That's what makes it a play, not a news story. And that's what makes it worth watching, worth thinking about, and worth discussing rather than shouting it down. Thanks to New Rep for giving us all the chance to do just that.
Louise Kennedy, The Boston Globe
Downstage @ New Rep, under David R. Gammons's direction, Stacy Fischer rather emphasizes Corrie's high-flying, socks-and-boxers-clad cuteness. Living her scattershot if well-intentioned local activist's life in Olympia, she never stops moving, whether to "Ruby Tuesday" or the self-consciously audacious sound of her own mouth ... Once the character gets to Gaza and her idealism meets its Waterloo, Fischer, growing stiller, captures her horror and her heartbreak. But don't look for two sides here — or even for an acknowledgment that there are two sides. "My Name Is Rachel Corrie" is a memorial to a sensitive, slyly humorous young woman who wanted to do some good in the world and thought she could by making lists and banners and a commitment, all of which she did with a whole heart.