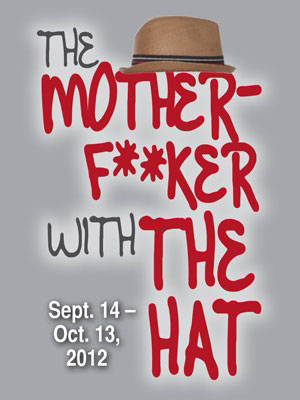 A 2011 Tony Award nominee for Best Play, The Motherfucker with the Hat is a ferociously funny play about love, fidelity, addiction, and facing one's demons. Ex-con Jackie thinks he has finally turned his life around now that he's sober and has a new job. But when he finds a strange hat in his girlfriend Veronica's apartment, he is back on the brink in this razor-sharp, raw, and surprisingly poignant black comedy.
Nominated for FIVE 2013 Independent Reviewers of New England (IRNE) Awards: Best Actor (Maurice Parent,) Best Actress (Evelyn Howe), Best Supporting Actor (Alejandro Simoes), Best Supporting Actress (Melinda Lopez), and Best Production.
Nominated for FOUR 2013 Elliot Norton Awards: Outstanding Actor (Maurice Parent), Outstanding Actress (Evelyn Howe), Outstanding Director, and Outstanding Production.
WINNER of TWO 2013 Elliot Norton Awards: Outstanding Actress and Outstanding Production.
WINNER of TWO 2013 Independent Reviewers of New England (IRNE) Awards: Best Supporting Actor and Best Supporting Actress.
Press
It's a very bumpy ride for Jackie from that point on — and a satisfying one for connoisseurs of crackling dialogue and skilled acting like the kind on display in SpeakEasy Stage Company's first-rate production of "The [Expletive] With the Hat,'' directed with propulsive force by David R. Gammons. Gammons, who helmed "Red'' at SpeakEasy last season, sustains an air of scorpions-in-a-bottle tension, mystery, and incipient chaos throughout "Hat,'' a sense that one wrong move could prove the undoing of people who are all too accustomed to making wrong moves.
Don Aucoin, The Boston Globe
The sets are bare bones –- and that's exactly where the playwright, David R. Gammons' smart direction, and these visceral performances take us –- right down to the nitty gritty of these characters scraped bare before us, no defenses, in clear view of themselves and each other. After all the mind games, rationalizations, screaming and yelling, drugs, sex, and alcohol, recovery comes down to this simple, difficult truth: "In order to change, you got to change."
Joyce Kulhawik, Joyce's Choices
The dark comedy, making its area premiere just 18 months after debuting to acclaim on Broadway, is raw in its emotions as well as in its brief nudity and the countless f-bombs and other profanity telegraphed by the title. At SpeakEasy, that rawness is enhanced by the physicality and high emotion of David R. Gammons' seering, yet often playful, direction and his stark staging. "Hat" is about people whom society often considers losers as they struggle with their own shortcomings and loyalties, and those of people they care about. Guirgis has said the play stemmed in part from recognizing that while 12-step programs may be perfect, the people in them are imperfect and "works in progress." There are no easy answers for people in that situation, and Guirgis doesn't give them to his characters, either, or to those watching a pivotal few days in their lives spin out of control.
Kathi Scrizzi Driscoll, Cape Cod Online