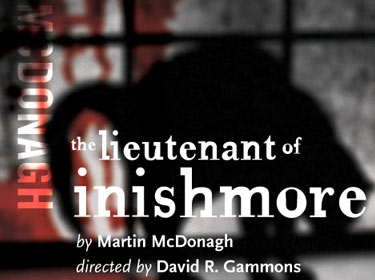 Blazingly funny and bitterly blood-curdling. A brazen and unapologetic farce. This award-winning comedy tells of a ruthless Irish Republican Army enforcer, "Mad" Padraic, and the one thing he loves more than anything else in the world . . . his little black cat, Wee Thomas. But someone has killed Wee Thomas. Was it an accident or an execution? Whoever is responsible had better fess up, or Padraic's reign of terror will come crashing down on the small Irish island of Inishmore. What ensues is a hilariously bloody, choking farce, quintessential to McDonagh, the playwright who gave us the critically acclaimed "The Pillowman."
Nominated for SIX 2008 IRNE Awards:
Best Actor, Best Supporting Actor, Best Supporting Actress, Best Lighting Design, Best Sound Design, and Best Ensemble.
Winner of two 2008 IRNE Awards!
Best Supporting Actor: Karl Baker Olson
Best Lighting Design: Karen Perlow
Press
I love this play. I loved it when I saw it on Broadway in 2006, and I love it in its current incarnation from the New Repertory Theatre. Martin McDonagh's "The Lieutenant of Inishmore" is a work by a playwright at the top of his game. It's funny, gross, innovative, poignant and exceedingly well-crafted. ... Having staged the Bard's gory "Titus Andronicus" for the Actors' Shakespeare Project last year, director David R. Gammons is no stranger to a bit of the old ultra-violence. He ranges wide, using the Arsenal Center's whole stage and backstage, for "Inishmore's" killing grounds.
Jenna Scherer, The Boston Herald
And it's true that the wretched excess onstage can be disarmingly, almost sickeningly funny; there's a kind of brilliance to the fury with which McDonagh blows his characters and his story apart. Certainly Wednesday's opening-night audience had its share of huge, disbelieving laughs, and a couple of them were mine. For that, credit goes not only to McDonagh's razor-sharp writing, but to Gammons's skill in keeping the razor's edge poised right at our throats for the full two hours. His pacing and focus are superb, and the whole production supports and rounds out his vision of the play, from set designer Janie E. Howland's shabby cottage on a blasted heath to Gail Astrid Buckley's tatty costumes, Karen Perlow's incisive lighting plan, and Rick Lombardo's careful choices of ear-blasting punk and hard rock. Kudos, too, of course, to special-effects designer Stephen Tolin for all the blood and guts.
Louise Kennedy, The Boston Globe
Except that it's a black farce, not a tragedy, you could call "The Lieutenant of Inishmore" Martin McDonagh's "Titus Andronicus." The 2002 Olivier Award winner and 2006 Tony nominee, which is getting its area premiere from New Repertory Theatre (at Arsenal Center for the Arts through November 16), is so rife with mutilation and dismemberment that you might as well direct it with a Cuisinart. Faced with similarly poetical mayhem in the Bard's "Titus," David R. Gammons, who won an Elliot Norton Award for his staging, spilled not one jot of stage blood. Now we know why; he was saving it up! Gammons's production of "Inishmore" sets the largest Aran Island afloat in a bucket of plasma: it gushes like Old Faithful and splatters like Jackson Pollock….By the time act two rolls around, with executions nested in executions like Russian dolls and the stage strewn with less-than-realistic-looking body parts, you don't know whether to cry mercy from Quentin Tarantino or John Millington Synge. But between Gammons's adroit mayhem management and Rick Lombardo's sound design, a layering of traditional Irish rebel songs and propulsive rock that adds to the play's momentum, McDonagh's one-trick pony canters. And both the acting and the accents are ace.