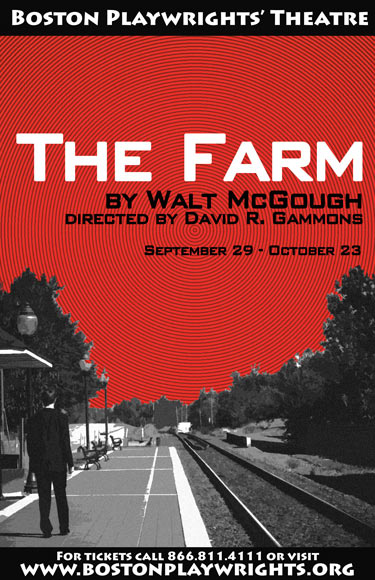 In a suspenseful showdown between the old and new guard, The Farm by Walt McGough puts "spooks" in a new light. Who can you trust in a world where the spies are getting spied on? Featuring Nael Nacer, Dale Place, and Lindsey McWorter, The Farm is the last place you want to get caught off guard.
Nominated for TWO 2012 Independent Reviewers of New England (IRNE) Awards: Best New Play and Best Actor (Dale Place).
Nominated for FIVE 2011 BroadwayWorld Boston Awards: Best Actor (Dale Place); Best Actress (Lindsey McWhorter); Best Ensemble; Best Direction of a Play; Best Production of a Play
Winner of the 2011 BroadwayWorld Boston Award for Best Actress (Lindsey McWhorter).
Press
With its ambitious blend of John le Carre and Franz Kafka, The Farm is anything but comic. Gammons and his creative team, especially sound designer David Remedios and lighting designer Karen Perlow, conjure a brooding atmosphere, including several minutes at the beginning of the play that unfold in complete darkness. Dale Place, so memorable as a supernatural postman in New Repertory Theatre's production of Steve Yockey's afterlife: a ghost story, delivers a mesmerizing performance in The Farm as another kind of spook. Finn is bitter, burned out, and disillusioned. Place conveys the compelling sense of a man who is determined to keep the door closed on his past but knows down deep that it's catching up to him, complete with misdeeds that were either perpetrated in the name of intelligence-gathering or were the result of collateral damage to his own psyche. Parker, by contrast, is an up-and-comer determined to prove herself to her superiors after switching to the CIA from the Secret Service. The way to do it is to get Finn to spill the beans, and the protracted verbal fencing match that ensues between her and Finn seems to be a collision of opposites. But in one of numerous resonant moments in this fine play, The Farm ends with a jolting final image that suggests they may not be as different as she thinks.

Ultimately the tensions between Finn and Parker reach a resolution that is at once surprising and highly dramatic yet far from unreasonable. Audiences are not likely to forget that resolution or, for that matter, this arresting drama. Premier director David R. Gammons kept the volleys of charges and countercharges as well as opposing philosophies about the CIA between Finn and Parker as rapid and rich as a championship tennis match. Dale Place turned Finn, arguably his best role and performance in recent years, into a tour de force combination of conflicting emotions as well as frustration boiling over into a properly scary outburst. Lindsey McWhorter smartly underplayed as Parker, building the new guard agent's reservations about Finn with striking gestures and vocal insinuation. Noel Nacer made the most of the Berliner's telling moments with Finn and especially Khalil's movement around the stage and in front of the audience as he seems to wear away at Finn's conscience.

The actors for the play are fantastic, though the roles that they have play with a strange kind of chemistry. While Parker has to keep a steady professional demeanor about her and "The Enemy" remains a menacing sort of silent throughout most of the play, the emotional swaying and empathy that the scene evokes comes from Agent Finn almost exclusively. Luckily Dale Place carries this weight with fantastic, skits of frantic emotional changes from hard nosed, angry Irish agent to emotionally distressed rambling mad man and back again. This is not to take away anything from the abilities of both Lindsey McWhorter and Nael Nacer, whose stone wall deliverance is used to lay the setting of an agency that takes life and death as part of statistical analysis and the menacing, un-answering specter of guilt that comes to its employees. If a fault has to be found with the play, it is only that because is a send up to the spy genre, it does have some predictable beats and twists that are prominent in most espionage stories. This is however over shadowed greatly by the many other themes that McGough has woven into the story and Gammons has brought out in its production. The topics presented in The Farm range from the changing of the United States in the new century, struggles against and for authority, life's potential to be wasted or preserved, all the way to the delicacy of the human mind and conscience.