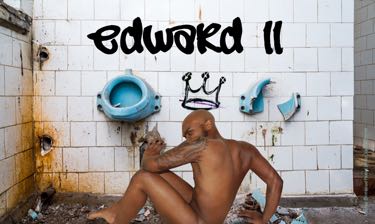 Nominated for SIX Independent Reviewers of New England (IRNE) Awards:
Best Production
Best Director
Best Actor: Maurice Emmanuel Parent
Best Supporting Actor: Eddie Shields
Best Set Design: Sara Brown
Best Sound Design: David Wilson
Nominated for FOUR 2017 Elliot Norton Awards:
Outstanding Production
Outstanding Actor: Maurice Emmanuel Parent
Outstanding Design
Outstanding Director
WINNER of THREE 2017 Elliot Norton Awards:
Outstanding Actor: Maurice Emmanuel Parent
Outstanding Design
Outstanding Director
"My father is deceased; come, Gaveston, and share the kingdom with thy dearest friend." The great-grandfather of Richard II, Edward II showered favor on his treasured male lover, Gaveston, leading to bitter resentment from the nobles with fatal consequences. Marlowe uses the tumultuous history of 14th century England to share one man's struggle between self-identity and the demands of his court and kingdom, presented in a taut new version that pares the work to eight characters to suit the intimate performance space and the intensity of his script. In the wake of Edward I's death, his son Edward has taken the throne as Edward II. His radical ideas around affairs of state, lack of military acumen, and loyalty to his ambitious lover Piers Gaveston pit him against powerful nobles and his calculating queen. These conflicts lead to Gaveston's exile and murder, new and shifting romantic loyalties on all sides, and revenge and retribution that ultimately seal Edward's fate. Edward II was kept off the stage for more than 300 years, in large part because of the cultural ambivalence of its social matter and the spectre of male sexuality as a threat to the civilized order of society and power. It depicts a gay relationship in the 14th century, written in the 16th century, in a way that most stories and lives were not openly portrayed until the late 20th century.
Featuring
KING EDWARD II Maurice Emmanuel Parent
QUEEN ISABELLA Jennie Israel
PIERCE DE GAVESTON Eddie Shields
LORD MORTIMER Alex Pollock
EARL OF LANCASTER Nigel Gore
EDMUND, EARL OF KENT Nile Hawver
SPENCER Stewart Evan Smith
PRINCE EDWARD, later EDWARD III David J. Castillo
Press
When it comes to sheer brio of presentation, few directors in Boston can rival David R. Gammons. And when you combine his conceptual brilliance and visual ingenuity with a dynamic performer like Maurice Emmanuel Parent, the result can be spellbinding, as is frequently the case in Gammons' brooding, sensual, and suspenseful production of Christopher Marlowe's Edward II. ... Director Gammons again illustrates his gift for immersing you in the worlds he creates onstage — a gift evident in his buoyantly joyful The Comedy of Errors at Actors' Shakespeare Project and the spooky shock-fest of his Hand to God at SpeakEasy Stage Company, just to name two. His Edward II manages to seem both of its time and of our time.

– Dan Aucoin The Boston Globe

Erotic obsession, political machinations, hubris derailed by the spinning of Fortuna's wheel — Edward II has everything you'd want from a great episode of House of Cards, or an Elizabethan-era history play. Director David R. Gammons' freshly conceived production of Christopher Marlowe's drama is unrelentingly moody and devilishly stylish; to look away for a moment is to risk missing the next gorgeously sculpted stage picture, often rendered through the interplay of light and shadow... What's clear is that this humid, sometimes spooky rendering of Edward II, ... offers a bounty of outstanding work from a deeply engaged creative team. Lots of people seem to be reaching their high point of recent seasons, all at the same time.

– Jeremy D. Goodwin WBUR's The ARTery

One of the great strengths of this production is its attention to the sensuality of the relationship between Edward and Gaveston, and gives several elongated, almost wordless, scenes to depicting the intensity of their physical involvement. These beautiful and graceful scenes offer welcome pauses among the raft of words employed otherwise in disputes about power and authority. Rather than seeming lurid, the relationship between Edward and Gaveston, as depicted here, is poetic and transcendent. Though Gaveston is portrayed initially as a sensual seducer of sorts, the trajectory of the relationship is towards something more clearly honest and open. The final scenes in which Edward and Gaveston climb a fire ladder towards the light of heaven accentuates this evolution and emphasis. Director David R. Gammons has managed, within the relatively limited confines of the spaces of the Charlestown Working Theater, to create the sense of a tragic political drama with enough kinetic action to supplement the steamy passion. There is quite imaginative use of the space at hand, and interesting lighting and sound add considerably to the effects. Bathtub scenes employing full frontal male nudity notably embellish this production.