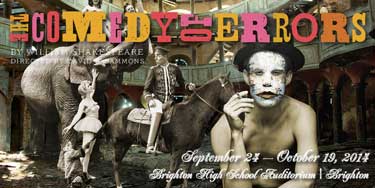 What happens when a group of traveling side show performers decide to mount one of Shakespeare's first comedies for a lark? A ribald romp of mistaken identities ensues. One of Shakespeare's earliest, shortest, and funniest plays, The Comedy of Errors takes us on a​ darkly​ farcical ride where anxieties lock horns with the transformative power of love. Despite the absurdity, we are left with an awareness of mortality, human frailty, and a lingering question: how is the sense of self undermined when the world fails to recognize you?
Nominated for THREE 2015 Independent Reviewers of New England (IRNE) Awards: Best Lighting Design (Jeff Adelberg),
Best Costume Design (Gail Astrid Buckley)
Best Production of a Play
Press
"... O​ne of the weirdest, wildest, and most uproarious Shakespeare stagings you'll ever see​ ...​ Gammons's conceit is that this Comedy of Errors is being rehearsed by a barely competent carnival troupe whose company includes fake Siamese twins. Sarah Newhouse and Richard Snee, attached at the hip by a strap, play characters who regularly appear together, first the Duke of Ephesus and Egeon, and then Adriana and her sister Luciana. Not until the rehearsal reaches act five does the troupe realize that the Duke, Egeon, Adriana, and Luciana will all have to be on stage at the same time, whereupon a wild flurry of desperate improvisation ensues.
In short, this is The Comedy of Errors as it might have been presented by the hapless rustics from A Midsummer Night's Dream, only with supremely accomplished actors. Clocking in at just an hour and 45 minutes, with no intermission, it's a blitzkrieg of knockabout fun. It's also clearly enunciated and surprisingly easy to follow, even if you've never read the play. ... Nothing could be more poignant than the final face-off between the twin Dromios, who came into the world together and, in a gesture of how we're all halves of each other, leave the same way, hand in hand. Rarely is Shakespeare so hilarious and yet so moving."
- Jeffery Gantz, The Boston Globe
Gammons's use of theatrical clowning is particularly effective. Egeon's monologue on the birth of his sons and their servants, followed by the loss of his wife and half of each pair at sea, is accompanied by an elaborate dumb show that introduces the troupe. In other scenes, absurd​ ​lazzi play out in the background, as when Adriana and Luciana savor a pair of toilet brushes as if they are the main course.
Gammons, doubling as scenic designer, outfits the stage with haphazardly mounted posters and lighting effects, suggesting both the dilapidated condition of Snoo & Snee's Sideshow's latest home as well as the uncertainty about how long the troupe may be welcome.
​Gammons​ ... ​places his emphasis on palpable desperation, a sense of angst symbolized by Egeon's death sentence and the possible end of Snoo & Snee's company if this show does not succeed. In this imaginative unity of script, action, design, conceit, and theme, this staging of​ Comedy of Errors​​ is one of Gammons' more fully realized productions.
​- Ian Thal, ​The Arts Fuse
"They are the most gloriously written plays of all time, bursting with riches of language that continue to stagger the imagination more than four centuries after they were created.​ ​Yet many recent Shakespeare productions hereabouts have placed less emphasis on those glittering words than on boldly arresting imagery, whimsical concepts, and a freewheeling physicality that marries calisthenics to vaudeville — and not just the comedies, either, but also the tragedies, romances, and histories.​ ​When it succeeds, as with Actors' Shakespeare Project's deliriously entertaining The Comedy of Errors, we're reminded that Shakespeare intended his works to be performed before live audiences, not to gather dust in the bin marked "dramatic literature."
A little over a week ago, I sat amid a crowd of high schoolers at a morning performance of Actors' Shakespeare Project's The Comedy of Errors at Brighton High School, directed by the always-ingenious David R. Gammons. The topsy-turvy scenic design, also by Gammons, offered some hints as to the mayhem about to ensue. A merry-go-round horse was suspended upside down over the stage, and a large clock face was tilted on its side upstage.
Gammons's play-within-a-play concept was that an inept carnival troupe was attempting, with fits and starts and botched lines and wildly over-the-top performances, to put on Comedy of Errors. The result was a state of perpetual pandemonium that kept the teenagers — a demographic notoriously leery of Shakespeare — convulsed with laughter.
​
- Don Aucoin, The Boston Globe